Future of robots, on the line
How we supported the Slovene manufacturing company in building a collaborative robotic fleet for the international market, amid a global pandemic and a precarious business climate.
Key challenges
Humanising automation: Factory workers are skilled in their tasks but less so in robot handling. Helping them interact with robots in an accessible, friendly way is paramount to their productive relationship.
Working on a global scale: The robot fleet would have to be mobile, remotely accessible for diagnostics, and speak multiple languages. A huge logistical and cultural challenge.
Tight control: Manufacturing facilities are, by design, very regulated environments. It is impossible to implement a cloud-based service with remote control over operations without an on-site presence.
Beyond R&D: Kolektor Digital is a world-class R&D powerhouse. Putting the robots into actual use and scaling the fleet to production numbers required updating their practices and regulatory compliance.
Key takeaways
Co-creation: Involving users as early as possible is invaluable! Have we not had access to factory staff from the kick-off onward, product development would take much longer, with more setbacks.
Adress all stakeholders: Our solutions needed to focus on the UX (user experience) and the DX (developer experience). End-users in factories were not our only concern, but also the engineers at Kolektor Digital.
DevOps best practices: Coronavirus pandemic, and the team's geographical distribution, could have brought the initiative to a halt. Due to our remote-friendly Ways of Working, they haven't.
Transparency and adaptability: With them comes excellent teamwork. We helped Kolektor Digital adopt new practices while accommodating existing tools and work in their robotics department.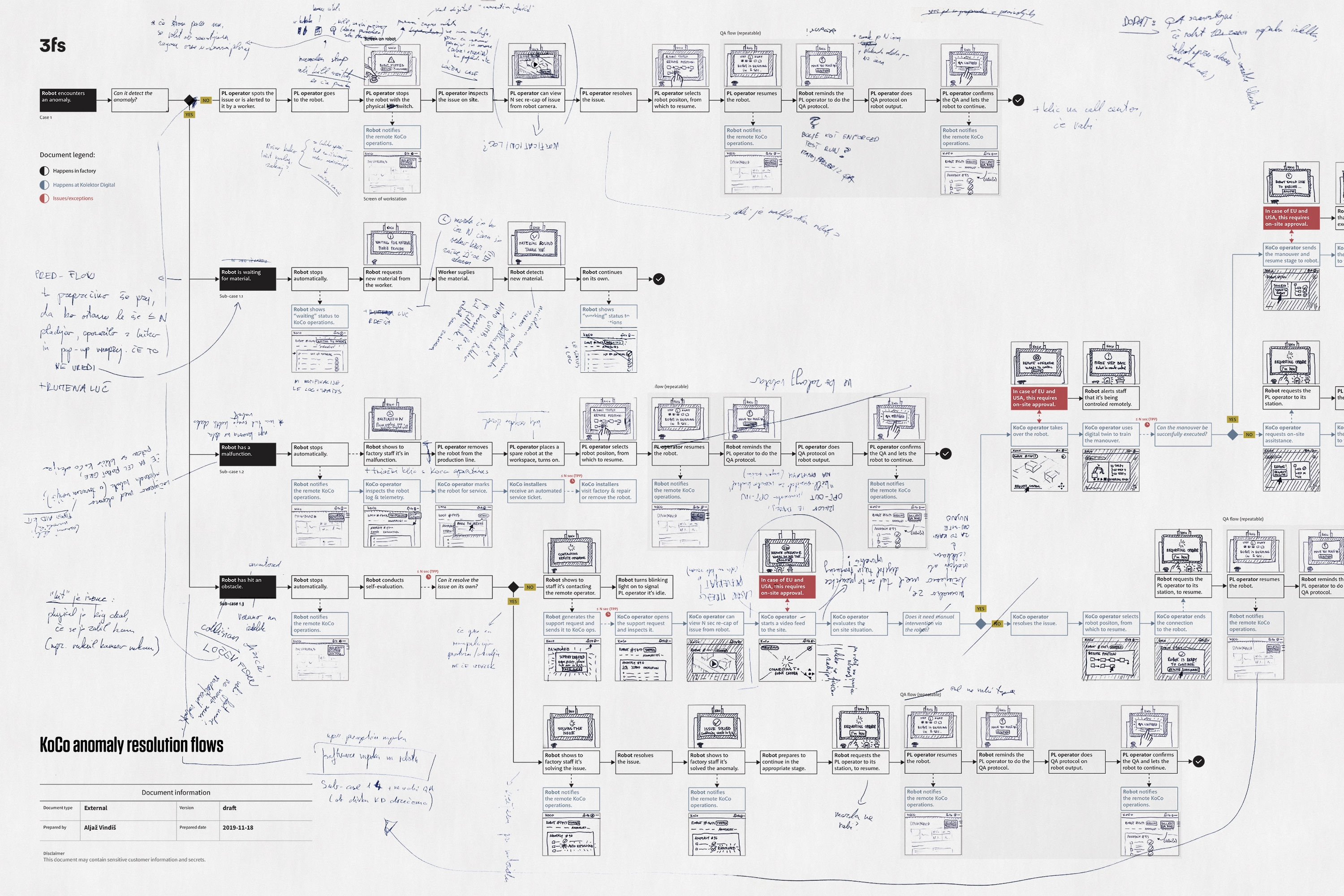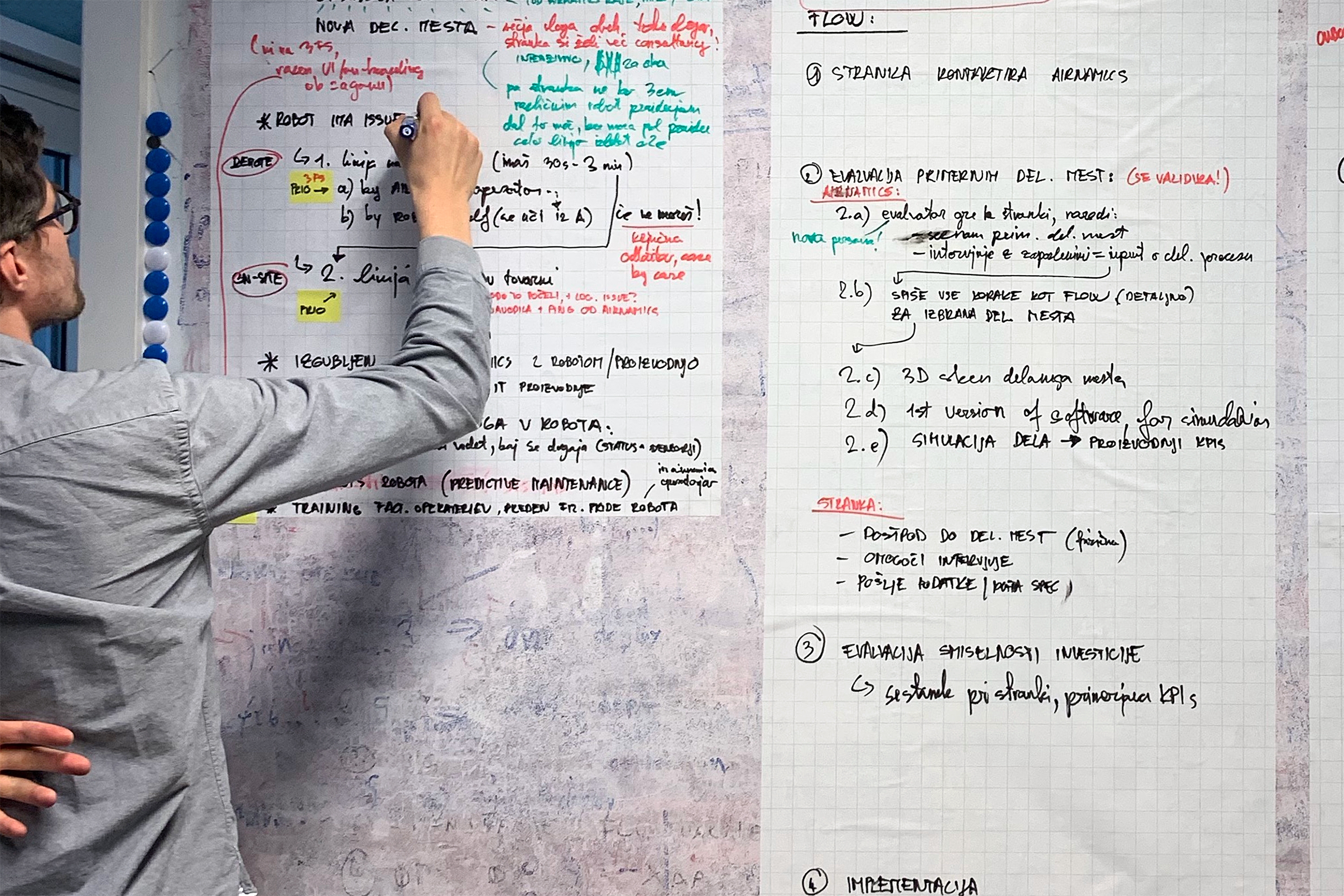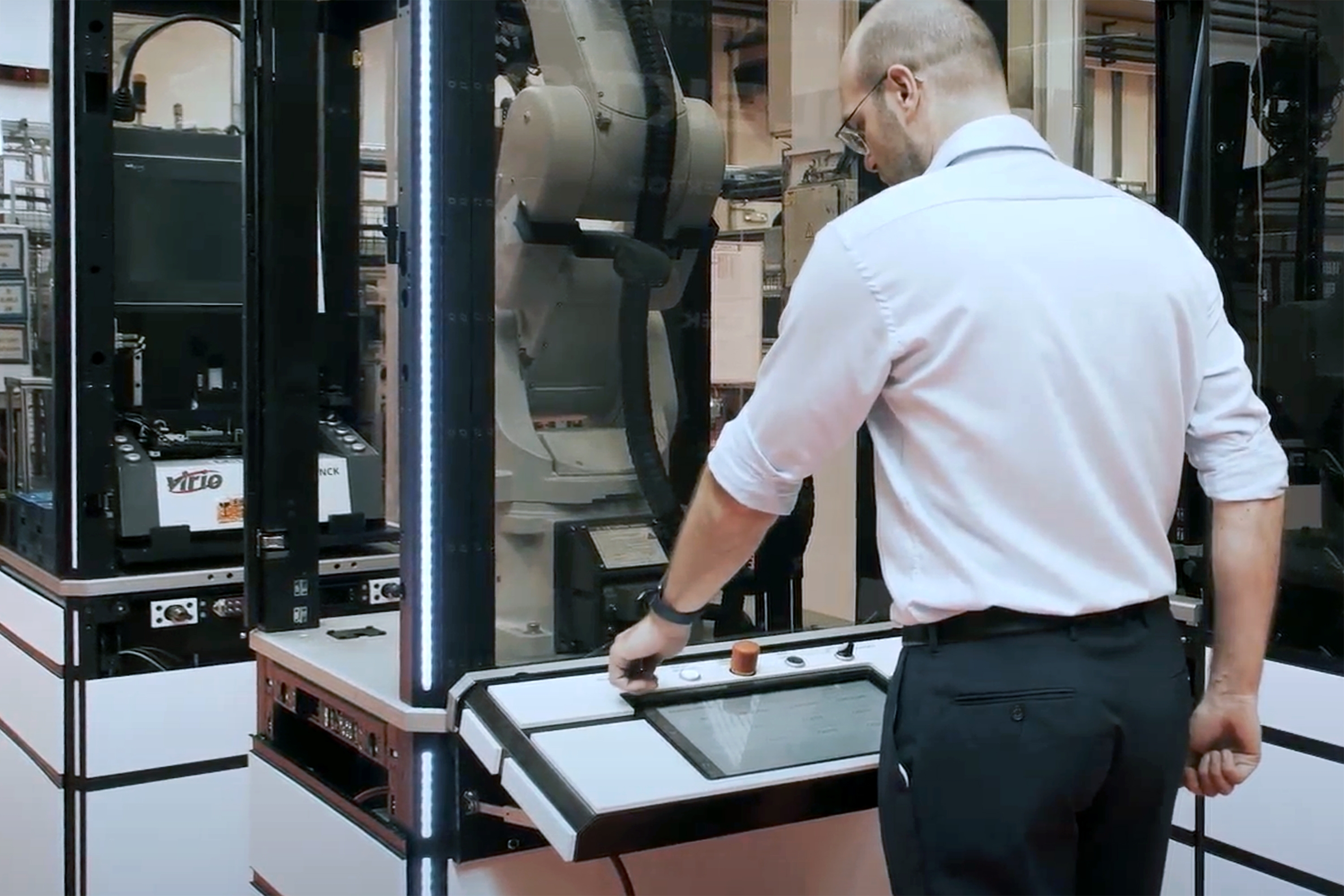 Local collaboration, global impact
Imagine having a fleet of human-scale intelligent robotic workers in the factory that never get tired and reliably perform the previously reserved tasks only for humans—collaborating with the staff, adapting to a new workplace in minutes, even going to a different facility altogether without much hassle. This solves many challenges manufacturing companies are exposed to every day, such as lack of workforce, need for increased production flexibility, continuous improvement of product quality, and reducing manufacturing costs. It's one of the key "smart" solutions that Kolektor seeks to offer in the global market to transform their customer's efficiency, flexibility, and manufacturing quality. 3fs dedicated a team to embed with their R&D arm, Kolektor Digital, to build the robots' cloud platform and digital apps.
Including factory staff from the start
It all began with a kick-off workshop, where contributors from both companies met for the first time. There, we could socialize as a product team, align on the challenges ahead and create shared knowledge. Kolektor's phenomenal factory staff were also willing to participate, joining us from their main manufacturing site in Slovenia. Direct input helped confirm or deny the team's assumptions on the spot, leading to a super productive session.
First-hand experience in the factory
The kick-off led to a field trip organized by our workshop guests. We familiarised ourselves with the production line in their facility, observed workers interacting with the R&D robot, and talked about their jobs. Designers detailed the use-cases and visualized the user flows. Engineers clarified technical details about the robot, its cameras, connectivity, and security. In the end, a rich conversation developed in-situ about a sensible scope and first deployment of the minimal viable product.
Let's do the same for you!
Kolektor used the prestudy to great advantage. We can now apply my prestudy consulting program to your own data product initiative, reducing the risk of its development.
Quick wins
We also went through Kolektor Digital's current R&D setup during these initial steps. Some improvements were needed to move from R&D mode into actual use, with global scalability in mind. We reviewed the existing source code, then implemented improvements to the software delivery pipeline, task management, documentation, and other DevOps best practices. We tested the changes on a relatively isolated and straightforward task: developing an API for automated retrieval of images and videos from the robot's onboard cameras. All of this also facilitated a simpler and more productive collaboration going forward.
Pieces of the puzzle
Several distinct parts of the system emerged as we hashed out the system architecture. First, we needed a system core running in the cloud. As the central relay for all robot connections, it would also be saving the robot telemetry and visual data. Exposing it through an API would allow us to build web applications for remote operation or preventive maintenance with relative ease. Then there were the robots themselves, with their onboard operating system. This provided a software interface with the robot hardware but needed cloud connection capability and a custom onboard user interface to boot.
Working step-by-step, in parallel tracks
When confronted with a complex system like that, it is impossible to tackle everything at once and deliver it all in one fell swoop. So we focused our efforts on critical points, utilizing a mock API interface and robot simulator so application development could proceed while the cloud infrastructure and the robot's internal systems were catching up. This decoupled approach had kept various parts of the team moving at their own pace throughout our collaboration, even when the robots' onboard application design slowed down due to complexities of advanced features or when the robots' operating system API had to be improved.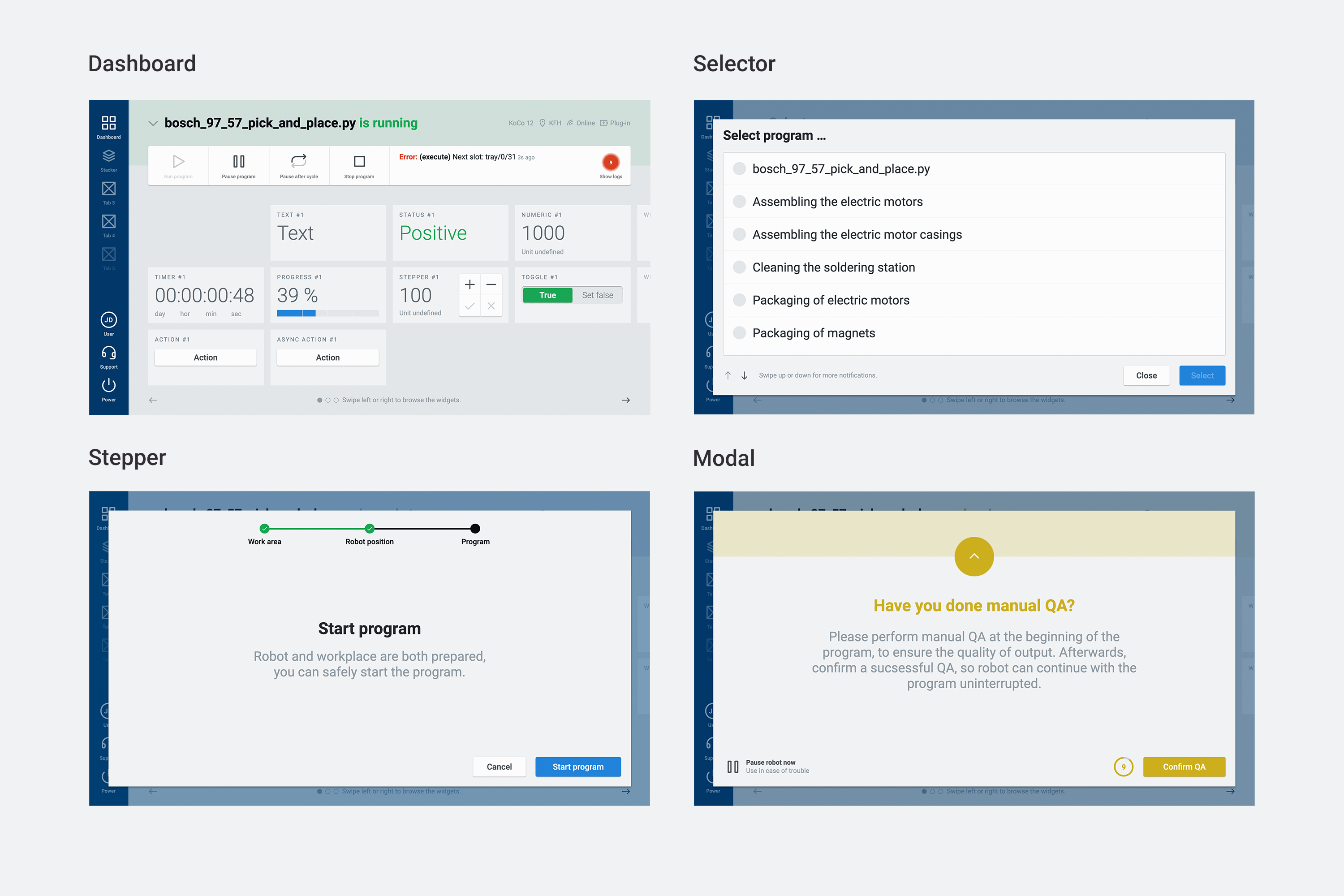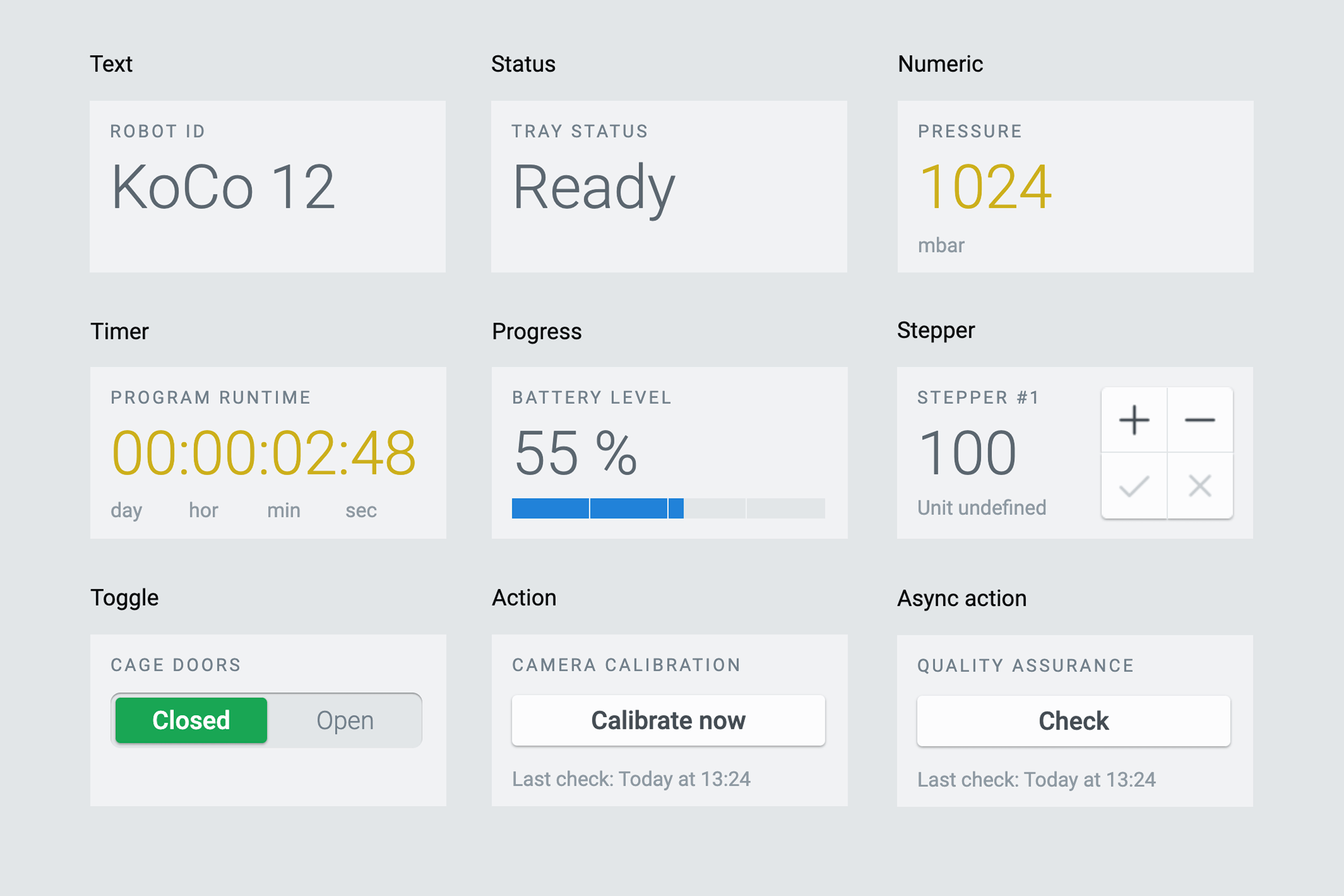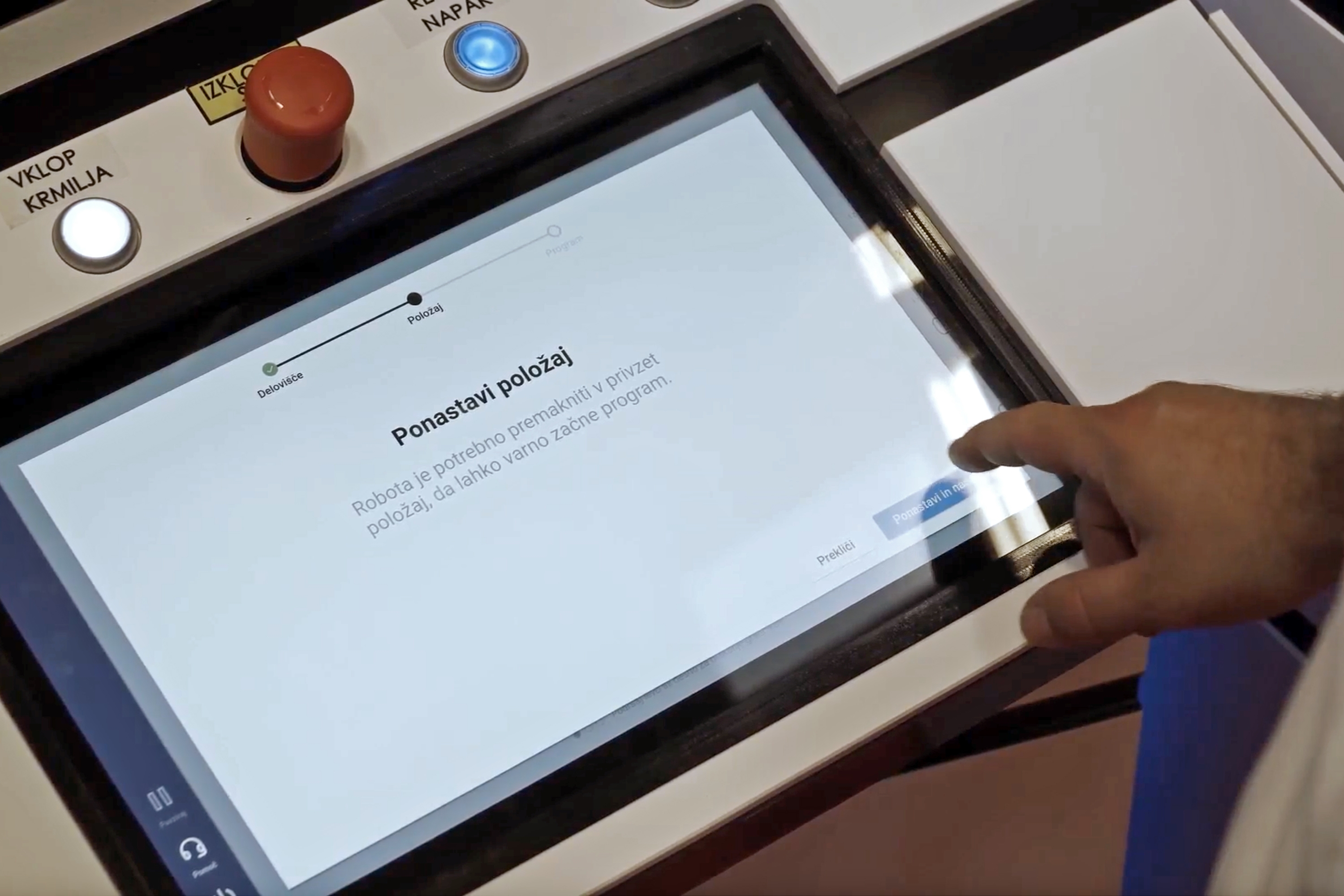 The pivot
Kolektor Digital's initial vision was to have a highly autonomous, cloud-connected fleet. Remote operators would supervise the robots using digital twins, only burdening the factory staff when all else fails. As we progressed with development, it became clear that such a vision will need to be readjusted due to the newfound security constraints of the manufacturing environment. In light of this, design emphasis for the initial phase was put on human-robot interaction in the factory. At the same time, the engineers implemented the robots as edge nodes, with minimal dependency on the cloud. Remote access would still be possible, but limited to diagnostics and support, and only if requested and approved on-site.
Prototyping for the win
Given the importance and complexity of human-robot interaction, we thoughtfully designed and thoroughly tested it. Given the time constraints, waiting for a minimal viable product was not an option. Instead, we used rapid prototyping methods: designers created highly realistic, interactive prototypes for each use-case, down to micro-interactions on the robot's screen and the relevant state of auxiliary systems. These were informed by detailed discussions with engineers and prompted rich feedback from Kolektor Digital and factory staff. Because we were all working together, iterating towards the best possible solution before hand-off to production, we avoided costly changes that would otherwise occur later in the process.
Let's do the same for you!
Kolektor used the prestudy to great advantage. We can now apply my prestudy consulting program to your own data product initiative, reducing the risk of its development.
From one-off to a reusable framework
When we got to the most complex parts of the Robot UI – the robot programs and the operator dashboard with interactive widgets – it became clear that there won't be a one-size-fits-all solution. Numerous possible robot hardware configurations, an endless array of different production line workflows, and various customer preferences all needed to be met. It was more sensible to redo our initial work in a modular fashion and continue building accordingly. In the end, we delivered a bespoke design system, including tight integration with the robots' onboard API. This required more planning and upfront effort but was ultimately justified with savings on configuration and support per each robot deployment, as Kolektor finally put the system they envisioned into actual use. They continue to operate it independently.