Being objective. Or are we?
How the second largest newspaper in Slovenia turned a weekly infographics section into an international success.
Key challenges
Keeping it steady: The pace of media is relentless, and physical media does not allow for later error correction. We learned the hard way that one should always have a backup plan and be honest with the newsroom asap so that everyone can adjust.
Establishing trust: Both readers and journalists are highly skeptical of newcomers, and building a following in media is not a trivial process. We were fortunate that readers recognized our work early on. It took far longer to convince our journalistic colleagues.
From assistants to authors: The stakes are high when you work as a journalist, instead of just drawing a graphic with another journalist's material. But, it's why getting recognized as equal by other journalists has been the ultimate award for us.
Key takeaways
Leading by example: Having a dedicated page to showcase what is possible has been invaluable. It helped our colleagues recognize the potential without feeling threatened and gave our design director a much better position to pitch for more investment in our work.
Staying humble: Changing the theme each week made for an exciting section, but also prevented us from advancing in a particular topic. Readers spared no words telling us to level up in their expertise. We kept the dialog open on- and off-line, to great effect.
Real-life impact: Some of our work directly influenced policy and government, solidifying its place alongside "traditional" journalism. But it came with an increased sense of responsibility to the public, the subjects we covered, and the newsroom that stood behind us.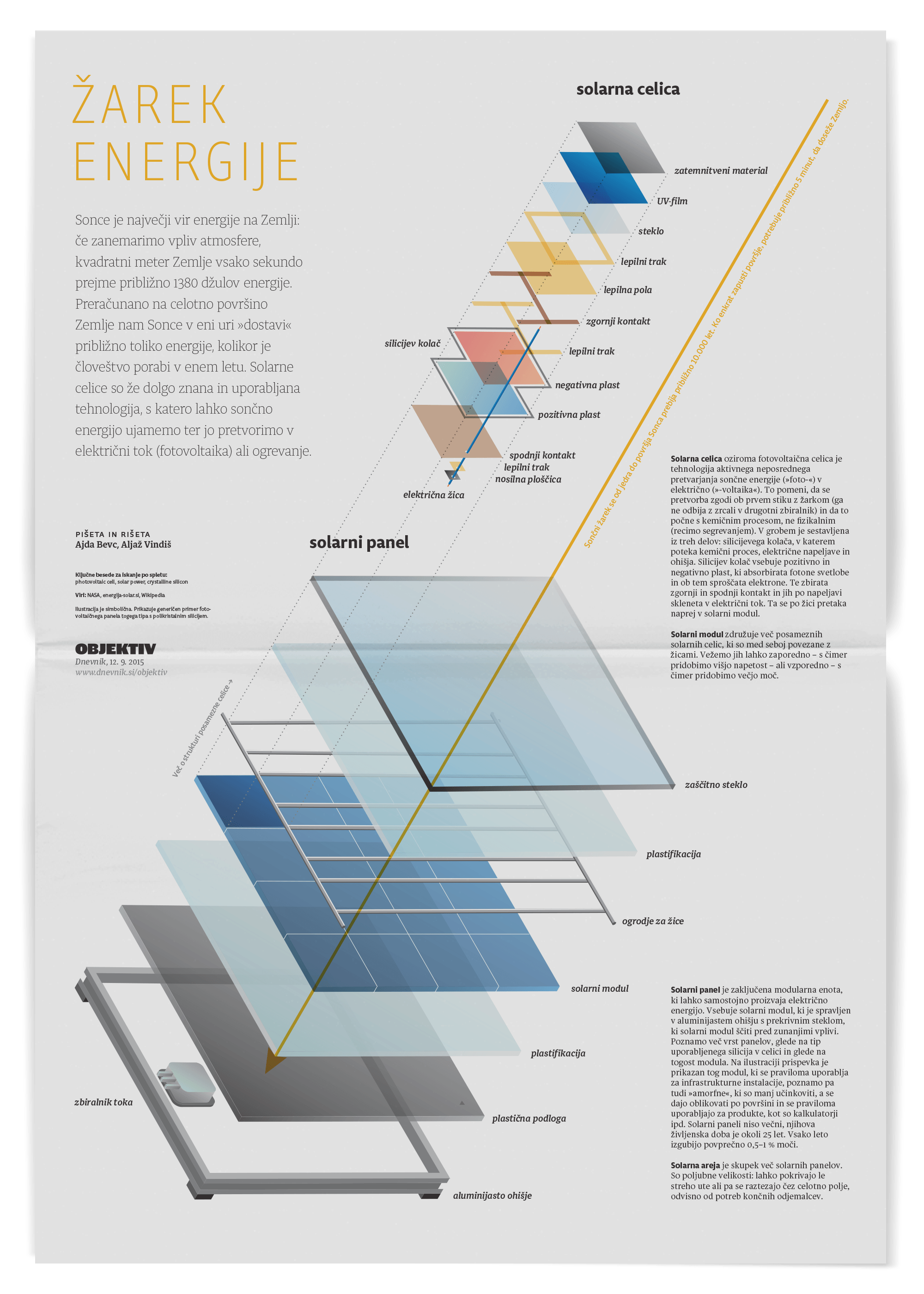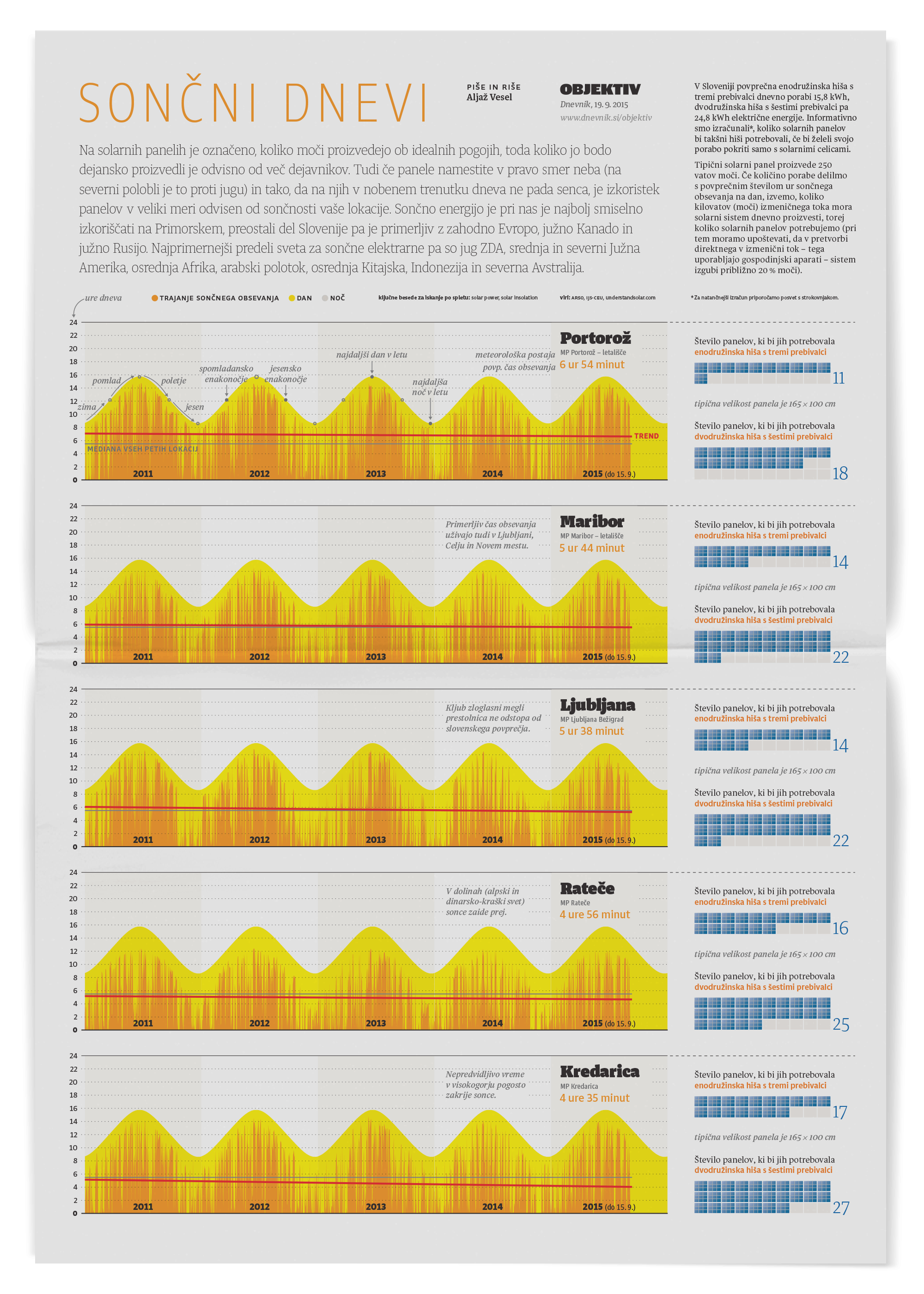 Leap of faith
"So, are you up for it?" asked Samo Ačko. He was working as design director for Slovenia's second-largest newspaper at the time. He just pitched taking over the entire last page of Dnevnik's flagship weekly supplement, Objektiv (eng. "Lens"). On it, I would get to produce a full-page graphic feature. Each week that is. Samo set the whole thing up as a pilot for visual and data journalism, together with Miran Lesjak, the publication's editor at the time. It was going to be named Objektivno (eng. "objective"). I always admired Samo's ambition, having known him for a while, but this was far out even for him. "Yeah, let's do this."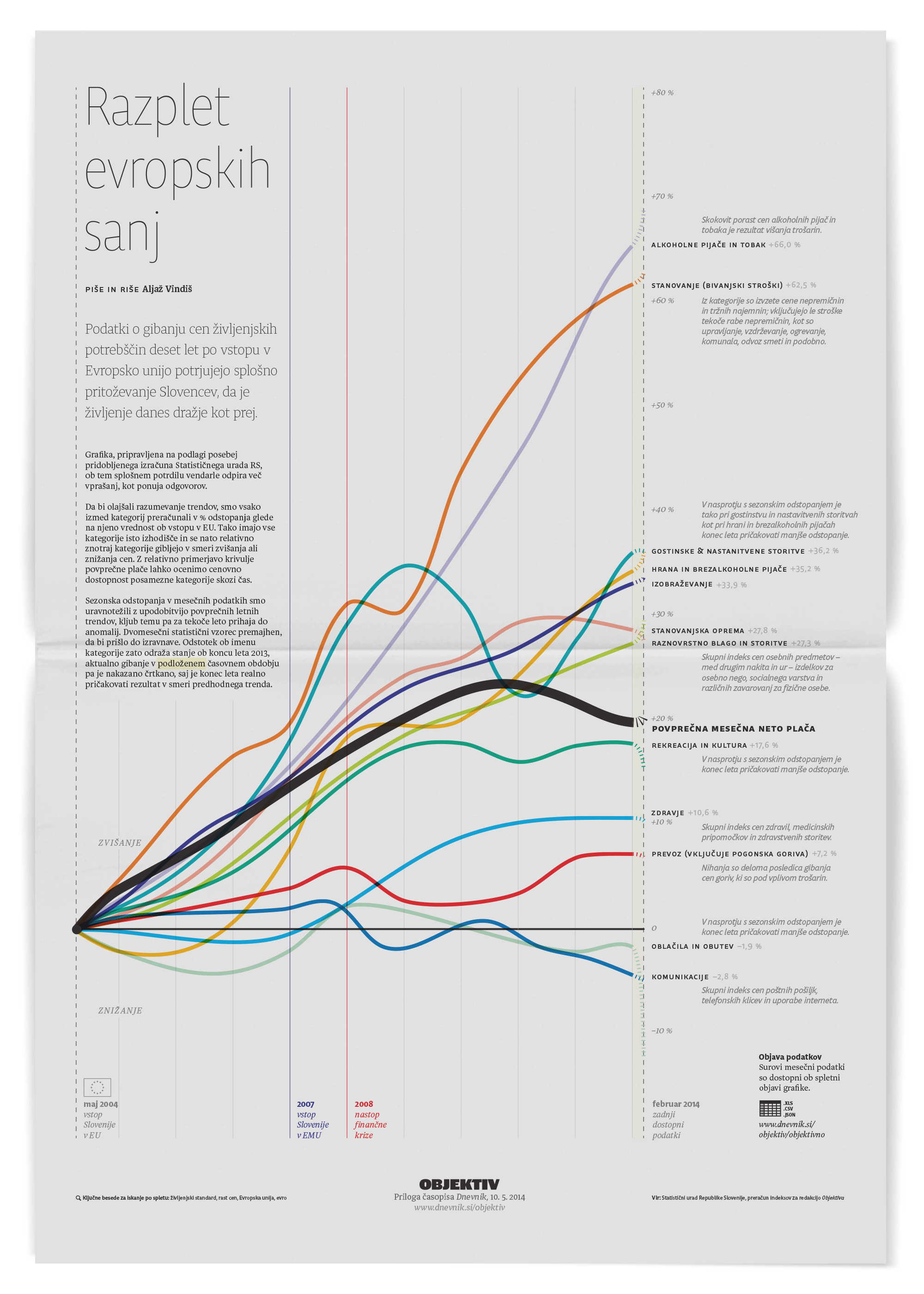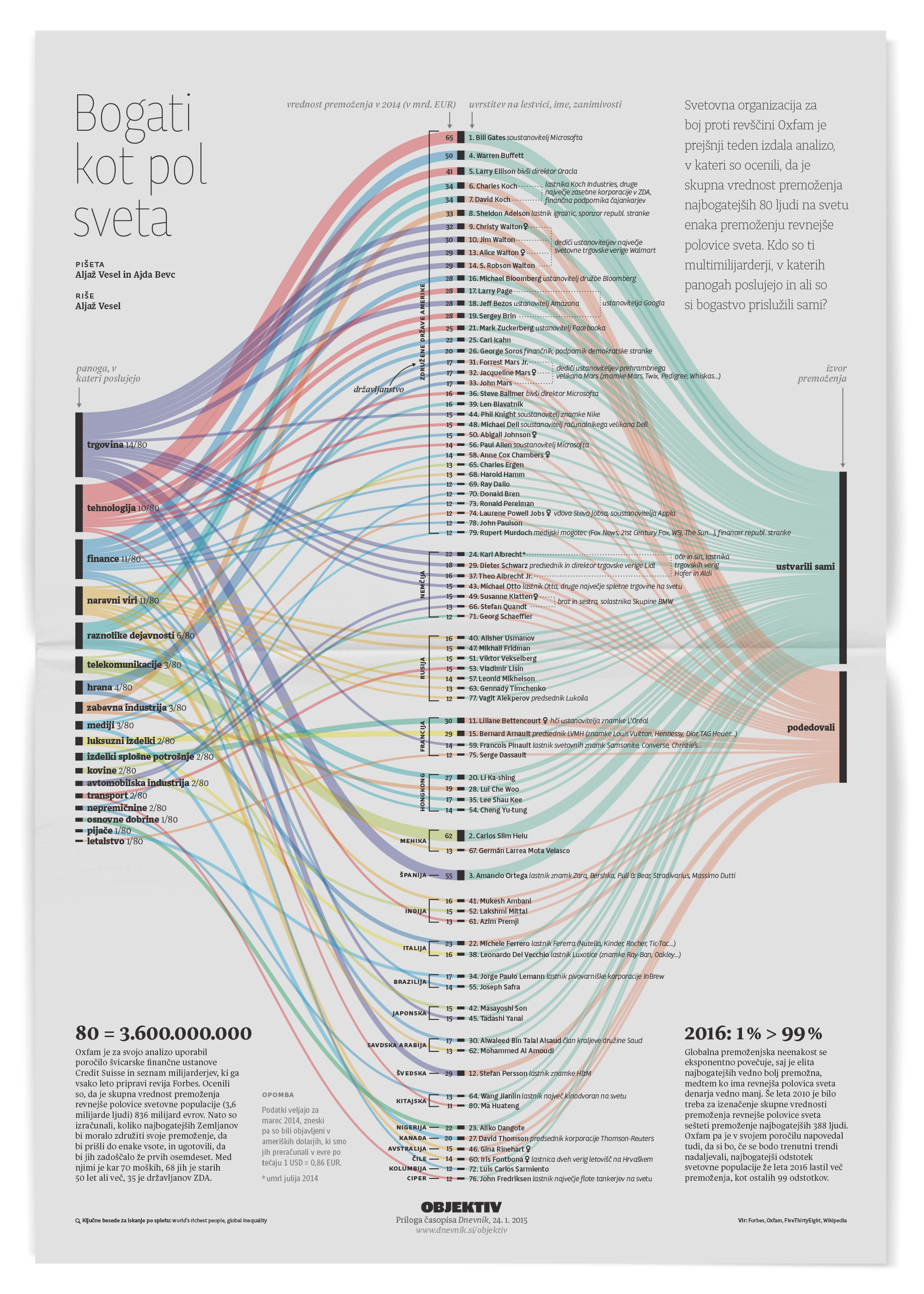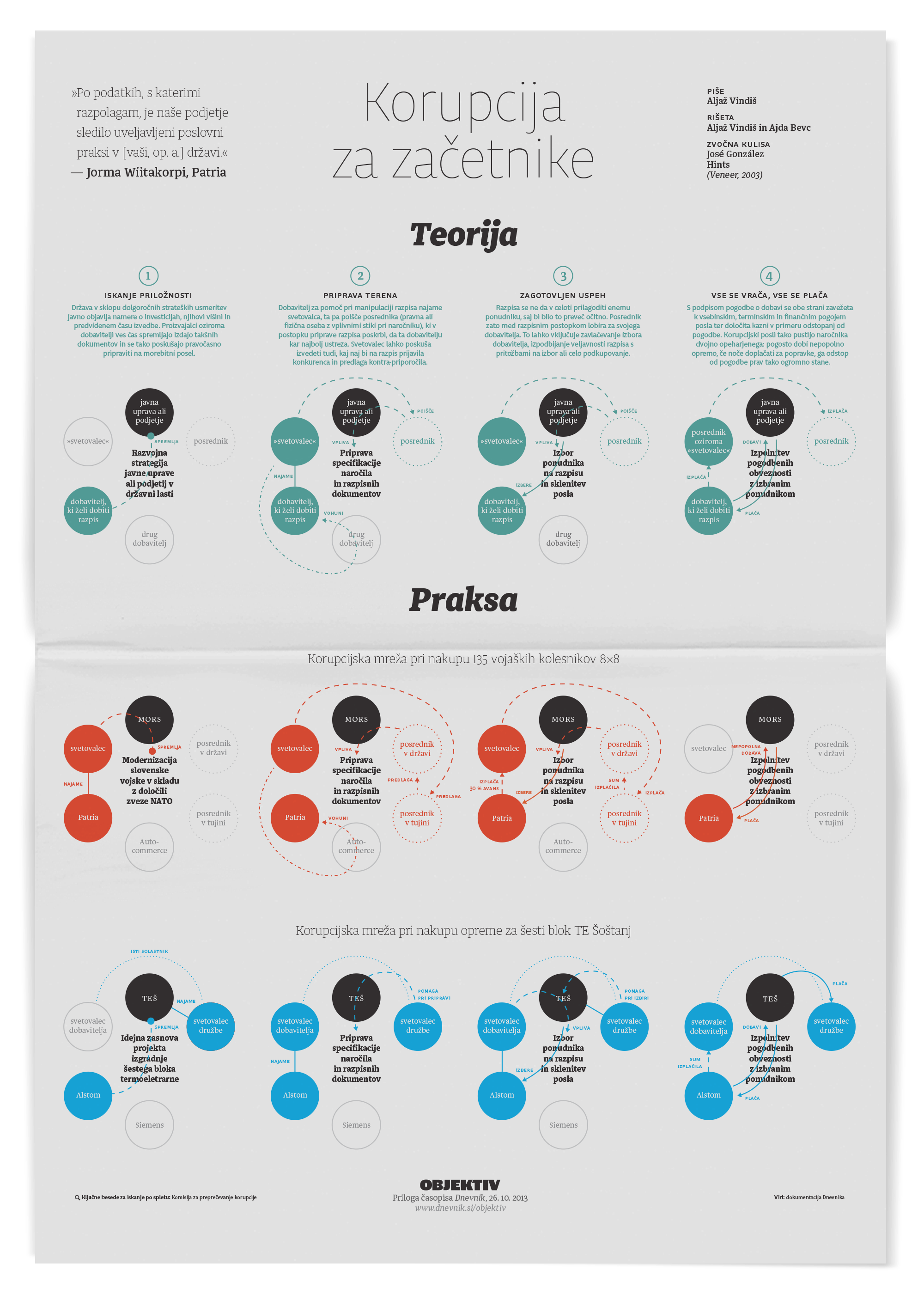 The toughest year (of my career)
If only I knew what I was getting myself into. As the author of the section, you had to deliver the whole thing: from research and synthesis to writing and drawing to laying it out and sending to print. Furthermore, a different topic had been chosen each week, in consultation with the editor and design director. Each Monday, a blank page was staring at you, and each Friday, the print deadline took its place. I scrambled. I faltered. And each mistake was seen by tens of thousands of people. That's just in print; I am not even counting the website. I had to learn more in a year than ever before, or after. But it turned me, as it did my later desk-mates, from mere designers to actual journalists.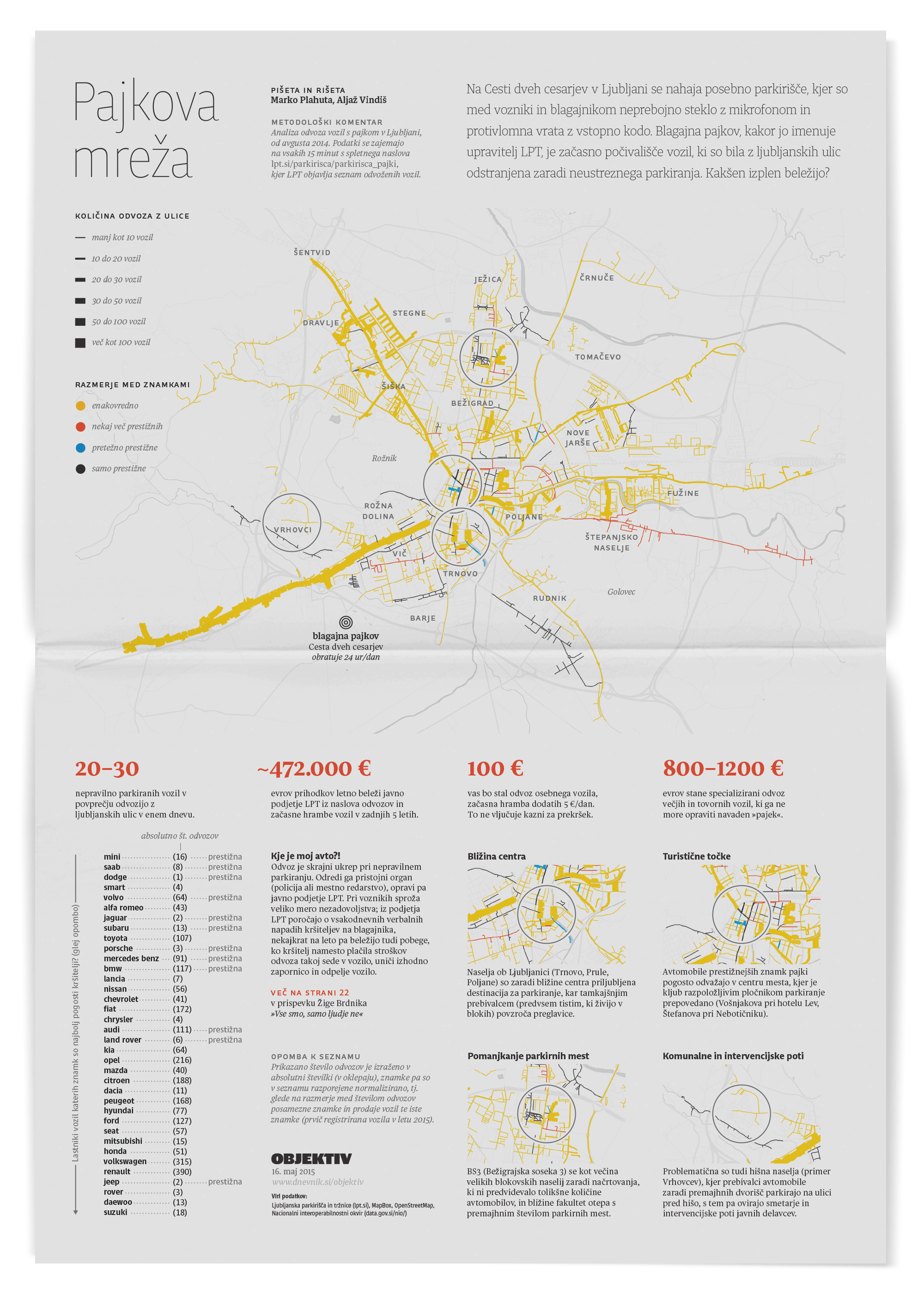 First signs of potential
The section quickly caught public interest, and it only grew from there. Nothing of this scale, regularity, and craftsmanship existed before in Slovenia. Feedback was steadily coming in from within the newsroom and our readers. As the weeks and months progressed, so did our work. We started sketching with actual data and learned now to present a narrative, not just raw facts. Our layouts improved, and details increased. We were working at an exhausting pace, but having such a tight feedback loop paid off. Finally, about a year into the project, I submitted our work to Malofiej, the international infographic conference, for the first time. "Let's see what the masters think." We got a silver medal. We were left speechless.
Creating a world-class team
The success of section Objektivno gave Samo, the design director, leverage to pitch for heavier investment in our work. He got it. Over the following few years, we scaled our graphics desk to multiple dedicated authors: Ajda Bevc joined in 2013, Aljaž Vesel in 2014, and Marko Plahuta in 2015. The growth came with a different set of challenges: in addition to my work so far, I had to mentor the new authors. As part of the deal with the newsroom, we also took over daily graphics production. We became a full-fledged desk. Our yearly output ran in the hundreds at the peak.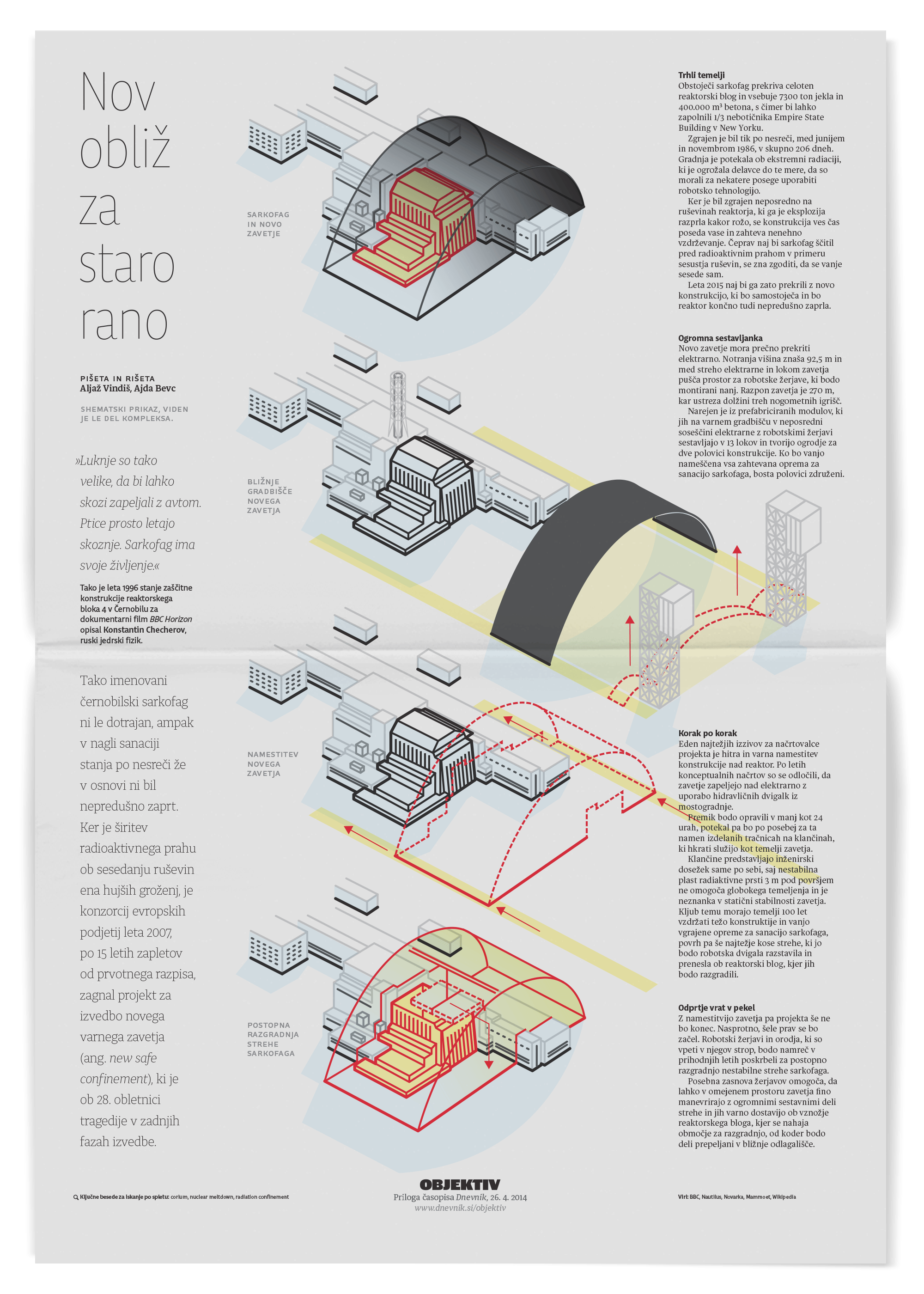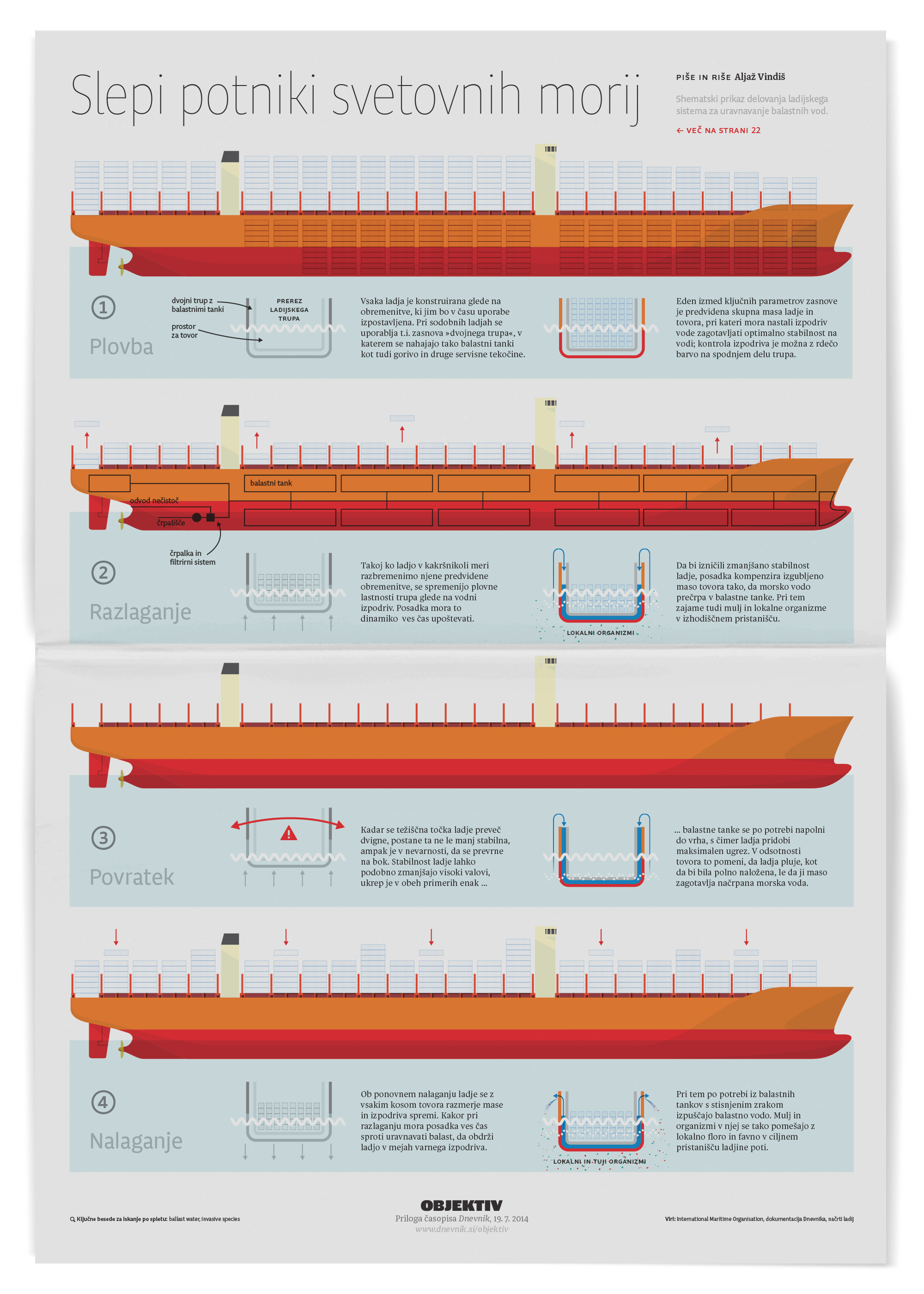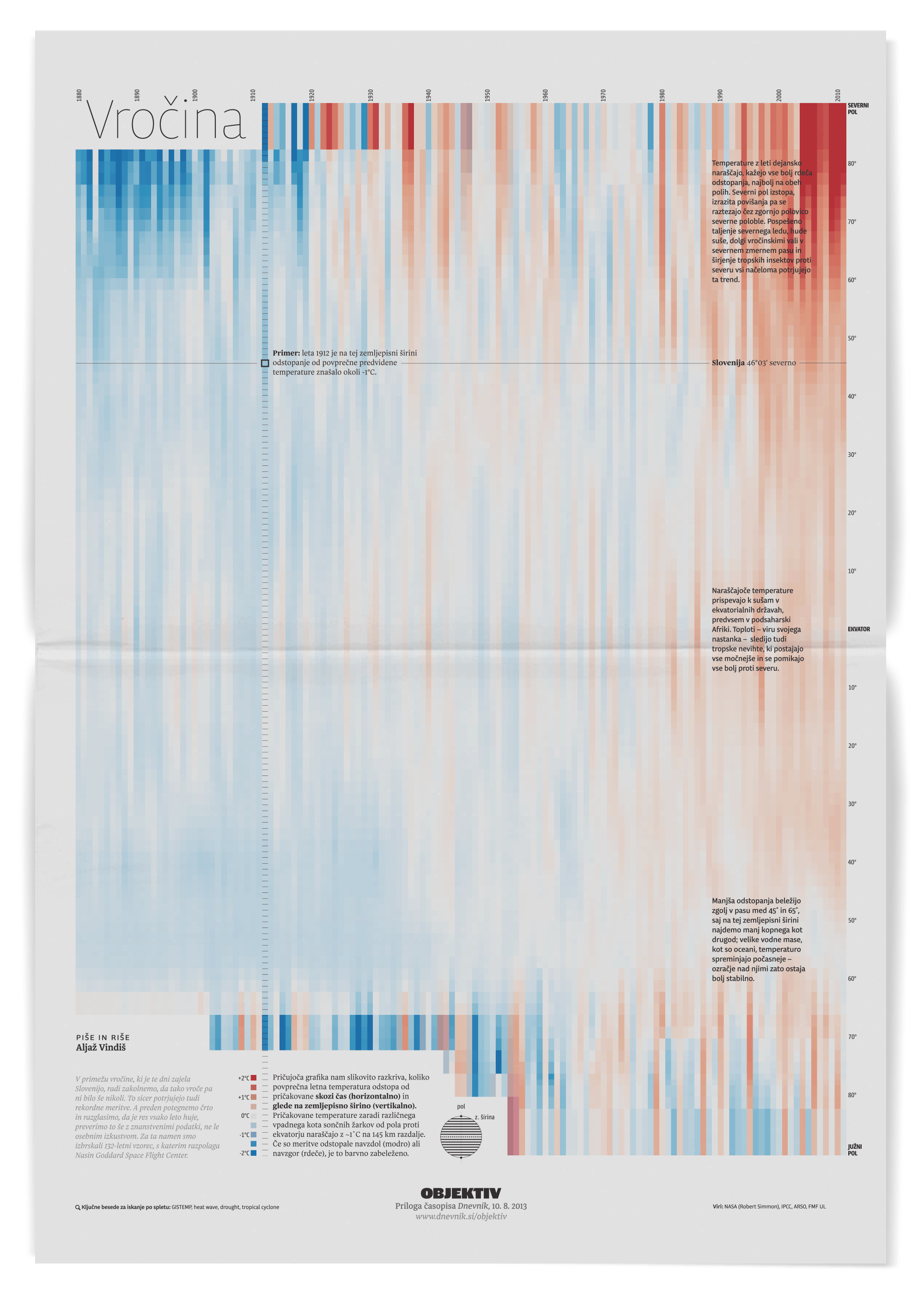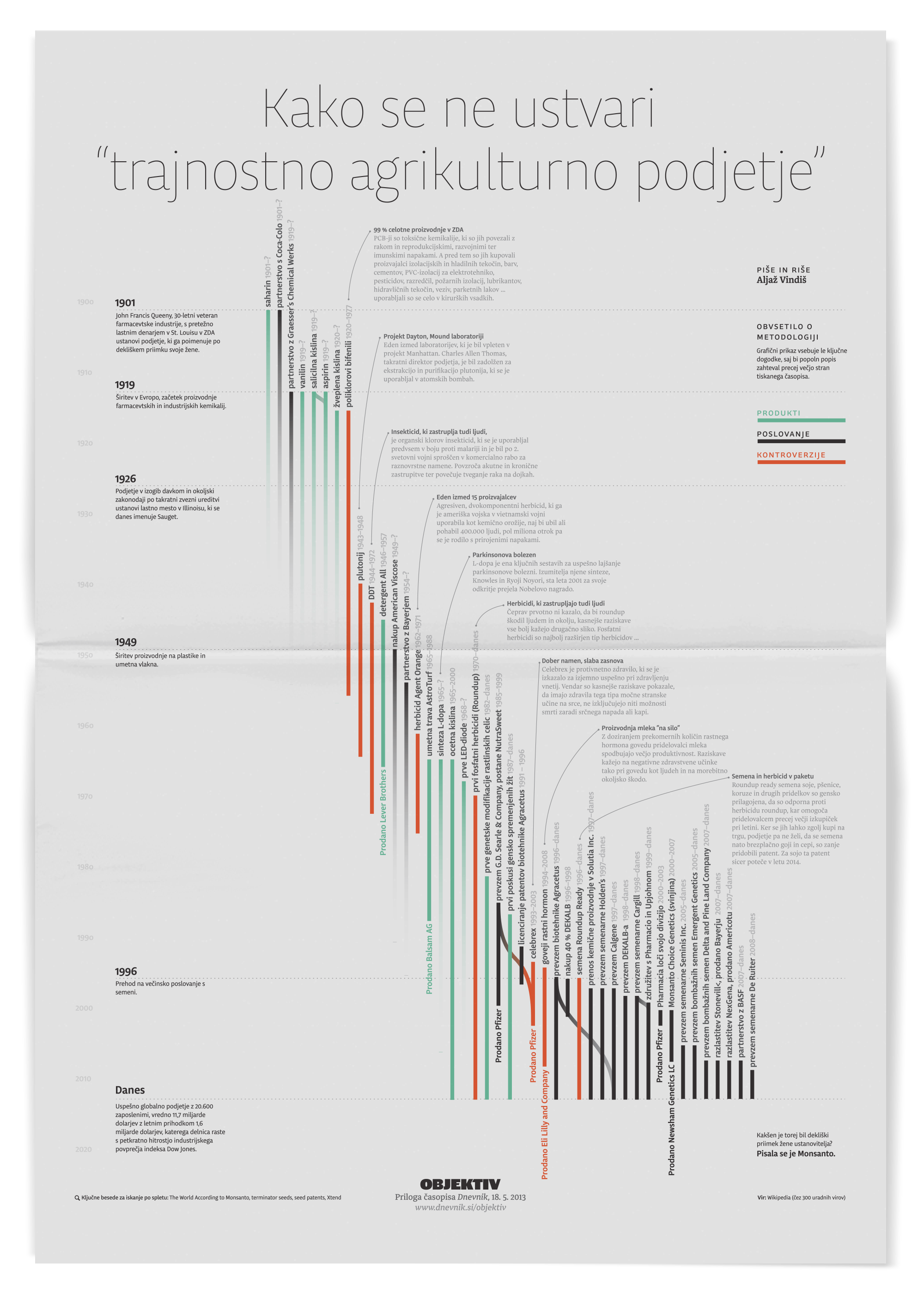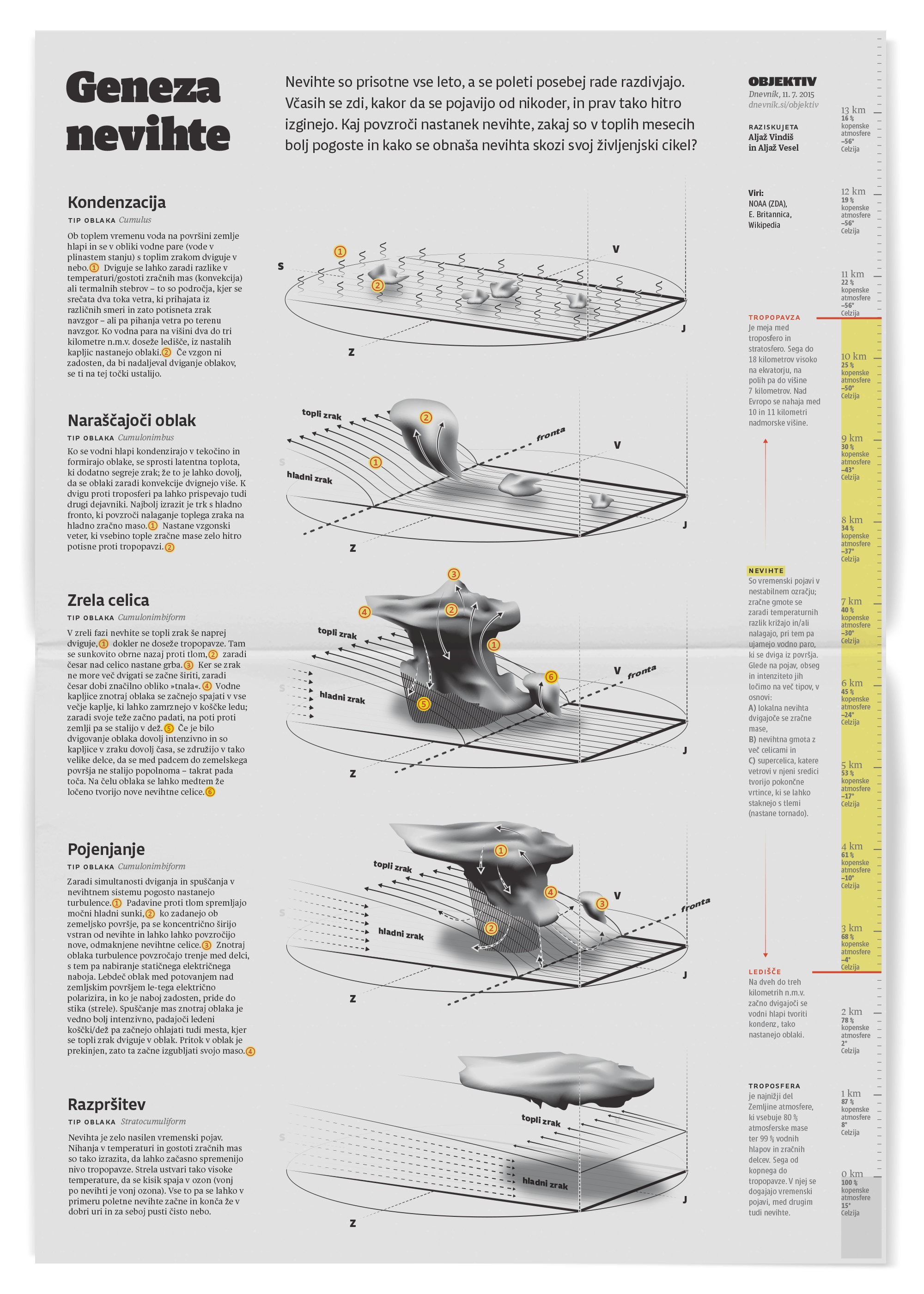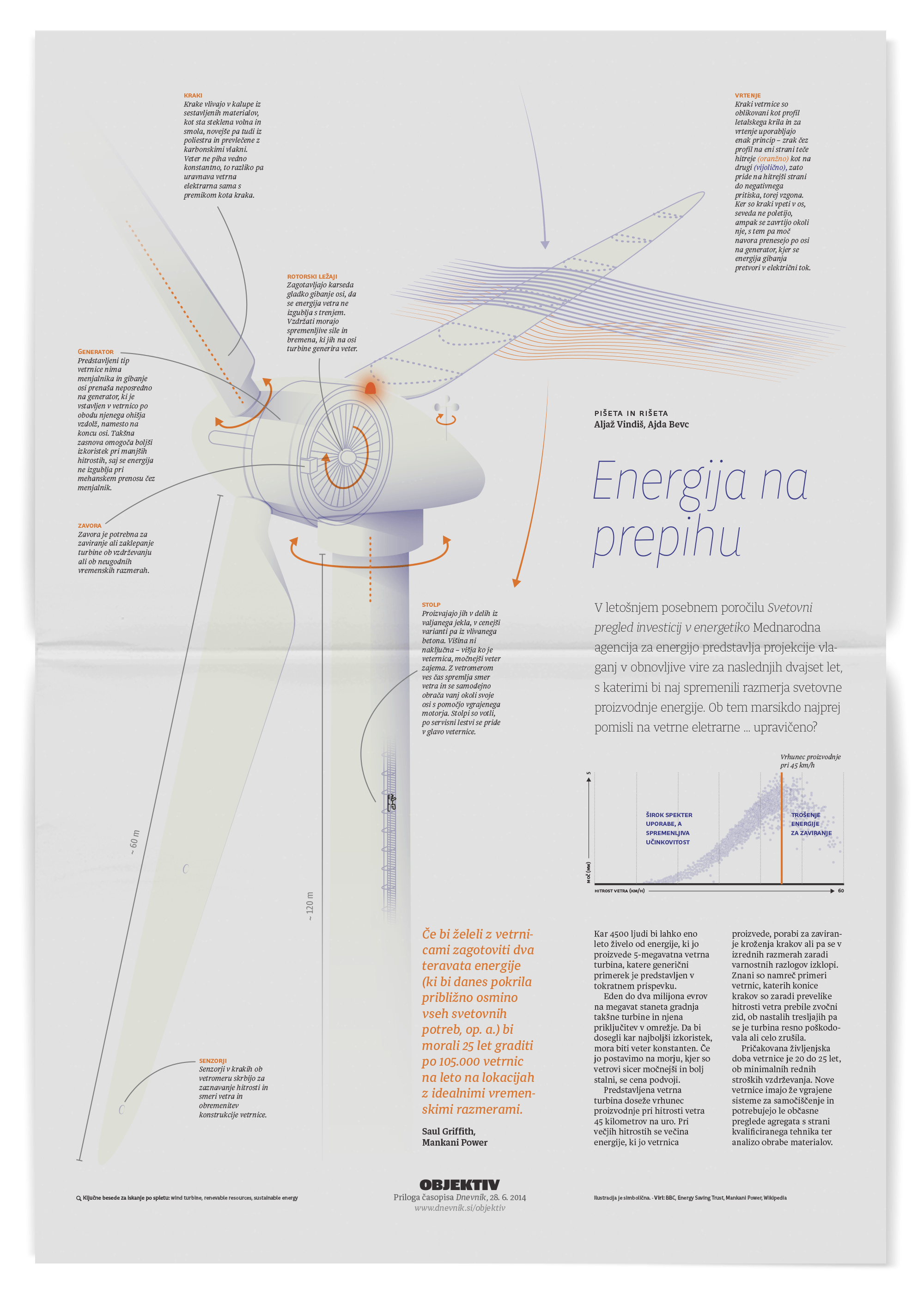 Working smarter, not harder
We developed multiple coping tactics to keep ourselves honest and sane. For section Objektivno, we tried having numerous topics on the roadmap and produced some in successive series. We would work on the whole piece at once, in passes, so that you could go to print even at lover fidelity of work. We learned how to divide a graphic between us to parallelize production. We established internal standards for quality control. Over the years, we also significantly improved our integration with the rest of the newsroom. It boosted the morale of everyone involved. Towards the end, we even piloted a centralized platform for archiving and analyzing of data that our investigative journalists were uncovering.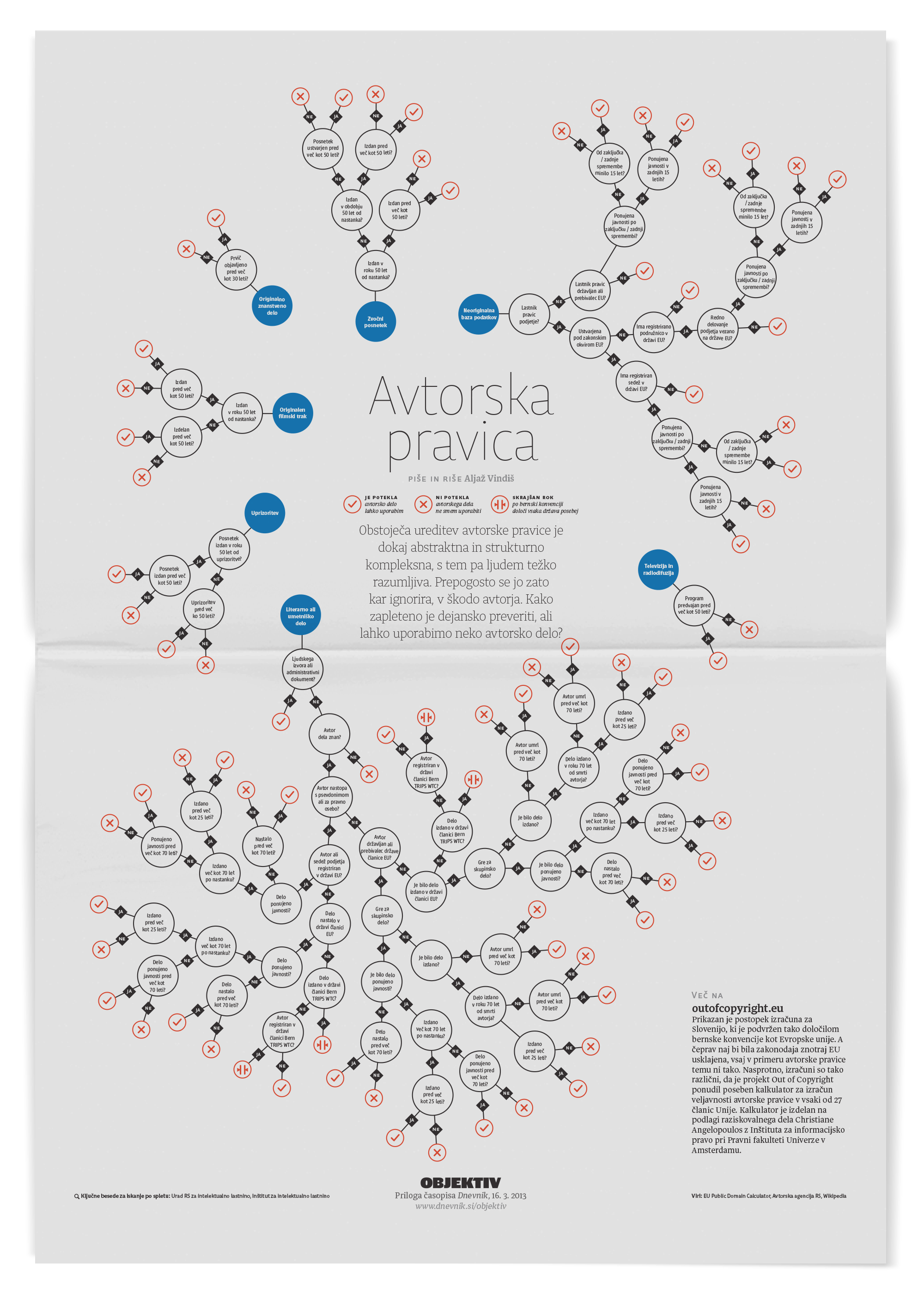 The lasting impression
All-in-all, section Objektivno ran uninterrupted for four years, ending with over 200 full-page features, a strong readership, and multiple statistics, journalism, and design recognitions. That includes a Miguel Urabayen award for the best map in the show at Malofiej 24. The section paved the way for extensive graphic features in the daily paper and motivated an overall graphics increase in Dnevnik's reporting. We contributed to several breaking stories at the paper, and our work has often been integral in making the scoop even more impactful. To this day, Objektivno continues to be the only periodical project of its kind in the region. It has been instrumental in establishing visual and data journalism in Slovenia.